Mickey Mouse on State Street
Through July, 15 giant, 700 lb. statues of Mickey Mouse will be on display on State Street. The 6-foot-tall mice were created to celebrate Mickey's 75th birthday. The statues debuted in Orlando in November, which was the 75th anniversary of the release of the Mickey Mouse short, Steamboat Willie. They will head to Washington D.C. and then go to New York City before being auctioned for charity. Mickey Mouse's creator, Walt Disney, was born in Chicago in 1901 and studied at the Academy of Fine Arts here. Each mouse in the display has been designed by a celebrity, including Tom Hanks, Tony Hawk, and Ben Affleck.

A gallery of all the statues.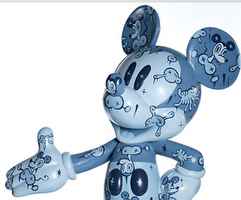 From boingboing.net